07/11/17



Cannot recommend enough. A transformative experience. Off white berber carpet had not been cleaned in 7 years... high traffic area by the kitchen and sliding glass door was matted and gray from all of us going in and out from the yard (and our dog going in and out about 10 times a day).
The in-progress photo speaks for itself (to our shame!). We also had some trouble spots that we had failed to remove (using everything from seltzer to oxy-clean, laundry detergent, and a shop vac).
Nevin (the proprietor) explained his process thoroughly, measured everything with a laser, reviewed our trouble spots, and gave us a quote before beginning. We told him in advance that we would like to avoid unnecessary perfumes, and he did warn us that there would be a mild citrus scent. It was very mild indeed; barely noticeable... just "fresh."
This carpet cleaning exceeded our every expectation and hope. It looks brand new; he had used a machine to massage the carpet, and all the flattened high traffic areas were fluffed right back up. We had him treat the main floor of our split-level home, the stairs (up and down), and the upstairs hallway, all for about $200. Worth a million.
David G - Boalsburg, PA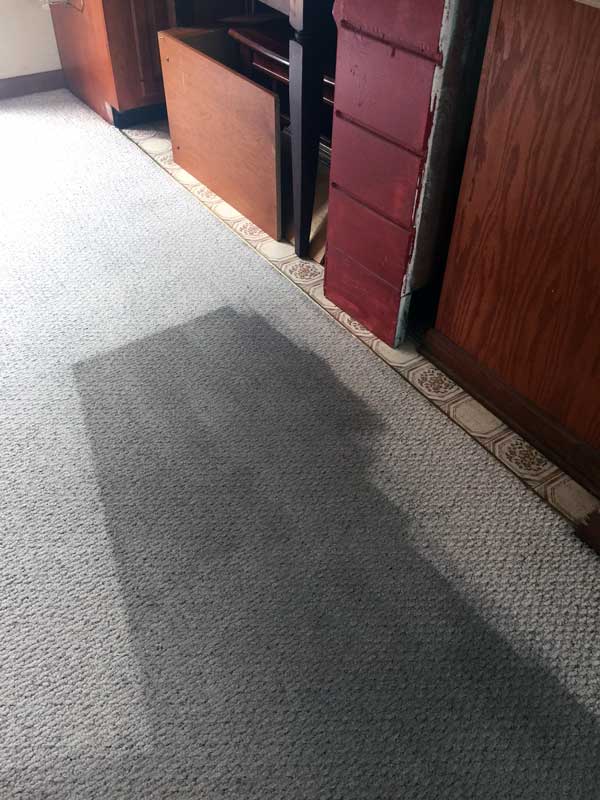 06/04/17



Nevin is a one man operation and that's a GOOD thing in this case. Unlike many carpet cleaners in the area, he's not beholden to a franchise. He can use products that he finds that are the best. He uses the equipment that he wants to use because it works! You will find that certain pieces of furniture cannot be moved. In my case, my TV and the TV console were not to be moved anyway. Everything else was either moved out the way prior to arrival or moved and returned to their original place. We even moved the furniture around in one of our bedrooms.
You can book online and you will get a price before anything gets done. Nevin uses a laser measuring "tape." It's more accurate in calculating square footage. I had to change my date and time three times. They were completely okay with rescheduling. You get an email a few days prior to your cleaning day that tells you how to prepare your home. It was quite helpful.
When it came to cleaning carpet, this man has some of the finest equipment. Nevin didn't just CLEAN these carpets, he RESTORED them. And...the carpets are WHITE. Have you looked at your carpet, saw how matted down it was, and think to yourself it would never look plush again? Think again. My carpets look NEW again.
Nevin has a great attitude and he doesn't miss spots. He's meticulous. Kind of a perfectionist. He's also a great time manager. I was scheduled into a 10-1 block. He was here at 10 and done before 1. He's definitely going to be coming back here. When we finally sell our house, I'll be recommending the new owners stick with Red Hot Carpet Cleaner.
Miss A - State College, PA
05/12/17



First of all, Nevin came to the house right on time and their automated text service lets you know when the person is on their way. This is a great feature!

Nevin is very knowledgeable about what he does. As a customer this is extremely important to me. I need my questions addressed. Before he started, Nevin walked through the house assessed and measured everything, then explained what he was going to do to help "restore" the fluffiness of the carpet. At first I was thinking, I will believe it when I see it! When he was done, simply WOW!!! The carpet was fresh, clean, fluffy, and soft!! Their steam extraction method WORKS and gives that extra oomph to the carpet. I have seen how other companies wash carpets, but Red Hot Carpet Cleaning is superior to others.

Give them a call and you will not be disappointed! They are pricier than others, but it is well worth it!
Thank you Nevin!
Amine B - Bellefonte, PA
08/16/17



Nevin arrived right on time and cleaned thoroughly and relatively quickly. Best carpet cleaner in State College in my experience.
Mike H - State College, PA
08/12/17



Nevin was amazing! Very knowledgeable and throughout! I moved into a new house and was suffering from some respiratory issues that my contractor advised was because of the carpets, he told me to have them cleaned. I put in an order at Red Hot and I am so glad that I did! The effects were immediate, I am no longer having the congestion I once was. He explained and used all food grade products that I could feel good about letting my son play on. It was a great experience and I would HIGHLY recommend his services! I will definitely use him when I need to clean them in the future!
Kera K - State College, PA
07/31/17


Great job done.
Beth P - Centre Hall, PA
07/19/17



Nevin is such a great guy. He always does what he thinks would be best to get our needs met and we have never been unsatisfied with his work. We have used him numerous times and will continue to use him as our go to guy for all of our carpet cleaning needs.
David G - Aaronsburg, PA
07/03/17



Did a great job with our carpets! Also, came all the way back and did a pet deodorization the same day when we realized we had forgotten to ask for that initially. Great company!
Cara H - Bellefonte, PA
06/17/17


Two things impressed me about Nevin's work. First of all, he did an amazing job. I have not seen my grout this clean since it was new. I have cleaned it myself on hands and knees but could not get it this clean. I also had Stanley Steamer do it once and the outcome was not as good. Secondly, Nevin is very knowledgeable and helped me with all of my questions - recommended products to use, etc.
Suzanne W - State College, PA
05/15/17



Thank You Red Hot Carpet Cleaning. Nevin did an excellent job on our carpet. He is very professional and takes pride on what he does! We will be using them again soon.
Ermonela Z - State College, PA
05/01/17



Best carpet cleaner around! He got rid of the bad odor and stains out of my carpets! Very pleased of what he did! I highly recommend him!! My house smells amazing now and my carpet looks brand new!
Alicia B - Sandy Ridge, PA
04/21/17


Excellent service and great job. A pleasure to deal with Nevin at Red Hot.
Mike B - State College, PA
12/02/16



I've used Red Hot Carpet Cleaning for at least 15 years, and I won't use anyone else. Nevin is professional, on time, courteous, knowledgeable about all types of carpets, and stains (pet stains too). He makes our 25 year old carpet look great! Professionalism at its finest.
Beth E - Boalsburg, PA
11/07/16



Thank you RED HOT Carpet Cleaning. You did an incredible job on our tile and grout in our house. I could never get down to scrub all of it...and it would never be as satisfactory. So professional and quick and the floors look AMAZING! Grout looks brand new. Nevin was great to work with and I've already recommended to a friend.
Jess C - Port Matilda, PA
10/26/16



The first time I used Red Hot Carpet Cleaning they did an excellent job on my couch, and chairs in my family room. They are 6 years old and had never been cleaned. They look brand new. The next time they came they worked on a heavy traffic area and room on my lower level that has alot of use. Not only smells amazing but for carpet that is almost 10 years old made it look new again. Nevin is courteous, on time, knowledgable about all stains and types of carpets and very easy to work with. I would recommend him to anyone!
Lisa B - Bellefonte, PA
10/05/16



Red Hot Carpet Cleaning is amazing. Nevin always responds promptly, arrives on time, and shows a great deal of care and attention. Because he owns this business, he is genuinely committed to providing good customer service and to ensuring that customers are satisfied. I've used several other companies in the past and would never go back to them!
Abby D - State College, PA
10/02/16



We've used the "other guys" in the past and the yellow vans were our "go to" carpet cleaners. They always did a good job and we were satisfied. Well, we were satisfied with that service until we tried Red Hot and we realized how much we've settled for a "clean" carpet. They may be a little more expensive than the yellow vans but trust the doubting Thomas when he says, it is well worth the extra money!
We purchase our home in 2012 and the home was built in 2003 so we have to assume the carpet is that old. This carpet looks new and I don't mean new looking for a 13 year old carpet, I mean Nevin did such an awesome job it looks like it was just installed. The other guys could get the nap to stand back up in high traffic areas for a day until they started to flatten back out. Here we are a few days later, the sun is finally trying to make an appearance and we can't believe how bright the beige carpet looks...it actually brightens the room and the nap still looks new. In fact, after Nevin was done, you could NOT tell the difference between the high traffic areas and the area under the sofa and other furniture in regards to the nap, color, brightness and softness after drying. We will not be using any other service as long as we live within Red Hots driving range!
Mike M - Bellefonte, PA
08/26/16


I have used Red Hot Carpet Cleaning twice now and have found them to be prompt, professional and very good cleaners. I would definitely recommend them.
Helen H - Boalsburg, PA
08/21/16



Great customer service and excellent results. Well worth every penny!
John D - State College, PA
07/17/16



What a great job Red Hot Carpet Cleaning did in our apartment. We have wall to wall beige carpeting that was really dirty and smelled awful due to a sick cat. It now looks like new and the smells are gone! I will never use anybody else for our carpet cleaning. I highly, highly recommend them.
Raymond D - State College, PA
06/20/16



I want everyone to know that this company has a magic formula they used to clean my carpets and I highly recommend them to anyone. We had our wedding at our home the 21st of May, and for 4 months before then, we remodeled the entire house in terms to be finished for out big day. Though we were planning on hard wood floors in the fall, we needed to have the existing rugs cleaned to be presentable for the day. These are 15 year old carpets to boot!
For $199, the owner of the company came out and did them himself and when he was done, I couldn't believe my eyes! When Bill came home from work that day he was floored! He never dreamed that the old carpets would ever look so good again. Not only were they clean, but soft too! These guys are my carpet guys for life!
Jean B - State College, PA
06/16/16



Red Hot has been cleaning carpets in our home for years. In addition to being knowledgeable about carpet care, both full room carpeting and oriental rug care, Nevin is a pleasure to work with. He always delivers on-time, professional service!
Julia E - Houserville, PA
05/31/16



Nevin did a thorough cleaning our camper carpet. The previous owner's dog that had evidently had more that a few "accidents" in the camper. He was able to find those spots and completely remove the awful odor. Kudos on an impressive job.
Hazel D - Howard, PA
05/20/16



I have a dog and a nice home. Unfortunately the dog decided to make one of the rooms her bathroom, every day, for a month. The expensive carpet was as good as gone, both in looks and smell, and I closed the room off so people wouldn't ask to go inside.
After having no success with the pet stain rug doctor that I rented, I hired Nevin. I saw his prior before and after photos of pet-stained-carpets.
The room is like new. I have pride in my stylish room again, rather than embarrassment. It was worth the money to make the change. I can't wait to furnish the room and open it to company.
Galen C - Lemont, PA
02/11/16


Nevin, I could not be any happier with your service and will recommend you to my friends!
Donna K - State College, PA
01/28/16


Thank you Nevin. The carpet dried well and looks fantastic. You did an extraordinary job!!!
Leah D - Port Matilda, PA
01/27/16


The carpet looks great! I think you did a fantastic job, thank you. I had a lot of doubts when I saw how stained it was, but it all cleaned up!
Thank you.
Melissa D - State College, PA
11/27/15


Hi Nevin! The carpet and couch look and smell great and we couldn't be happier with what you did. Thank you so much!
Thanks again! We will definitely be back in touch for the rest of the house at some point.
Laura W - State College, PA
11/08/15


We are very pleased with the results of the cleaning of our rugs and carpets. You did a great job. They look like new!
Marka B - Bellefonte, PA
11/01/15


Nevin once again, you provided professional and outstanding service. The carpets look great. When my wife got home she could not believe that you were able to get the urine stains and smell out of the carpet left by our geriatric dog. Job well done!
Mike M - Bellefonte, PA
10/11/15


Thank you Nevin -- you provided us outstanding service! I also love working with a locally owned, small business in State College. I will continue to recommend you to others!
Janet J - State College, PA
08/12/15


Nevin cleaned the carpet for my move-out from a two story, two bedroom apartment I shared with a roommate. He communicated times clearly (when he would arrive, etc.) and was super friendly and knowledgeable. He was able to get out stains that were there when I moved in and answered all my questions and concerns. The landlord was really impressed with the job he did. I will be using him again when I have to get the carpets cleaned at my new place and will also be recommending him widely. As a grad student, he had fair prices for such solid work.
Sarah P - State College, PA
07/09/15


Thank you. If my wife wasn't there to watch you clean it. I would have guessed you just replace it with a new one. Thank you so much you did an amazing job!
Koleman D - Boalsburg, PA
05/27/15


We just had several carpets cleaned ,and we are overjoyed with the quality,and customer service we received from Nevin at Red Hot carpet Cleaning.
He was very efficient, and acknowledged our needs right away. We definitely will be using his services again in the future. He got stains out that I thought would be there forever.
Thank you!
Happy customers!
Susan H - Boalsburg, PA
05/21/15


Nevin has cleaned all the carpeting in our home for many years, and provides truly exceptional service. He has outstanding equipment, providing the best carpet cleaning we have ever experienced. On one occasion (several years ago), we responded to a "special" from another carpet cleaning company - and we'll never do that again! You truly do get what you pay for!
Nevin is extremely responsive to our needs and to our scheduling requirements. He manages the moving of all furniture for comprehensive cleaning, then returns the furniture precisely where it was originally located - but includes pads or plastic to ensure no residual damage from the interaction of furniture with moist carpeting. He is meticulous in his work, leaves our home spotlessly clean, and is a pleasure to work with. I strongly recommend Red Hot Carpet Cleaning for a quality result with outstanding service!
Reg G - State College, PA
08/15/14


We have used Red Hot Carpet Cleaning for about 15 years. We have never been disappointed by the results. They always arrive on time and do excellent work. Try them for your tile floors too - WOW!
Brad F - State College, PA
07/16/14


I have used the services of Red Hot Carpet Cleaning for over 15 years. Nevin, the owner and sole service person, does an outstanding job with my carpets and furniture. He is tireless in working on the task and won't leave till the job is completely satisfactory to both him and me. He is professional and always keeps up with the latest equipment and techniques to insure great results. You can be confident in hiring Red Hot Carpet Cleaners to do a wonderful job.
Wendy S - State College, PA
06/24/14


We were very please with the results !! Replacement was being contemplated but now the carpet looks great and we can keep it for many years.
Ann G - State College, PA
06/08/14


I'd tried other carpet cleaners before trying Red Hot Carpet Cleaners. They do wonders with my old, heavy-traveled carpet. They are friendly, prompt, and thorough and have worked wonders numerous times. I wouldn't use anyone else.
Alaska H - Pine Grove Mills, PA
05/19/14


Today my carpets(2) were cleaned by Nevin. He did a super job as he always does. Nevin has been my carpet cleaner for over 20 years and always does an excellent job. Also, he has a very courteous personality.
Beverly K - State College, PA
05/08/14


Fantastic to work with! Came on time, was thorough and informative. I'm super happy with the results and would absolutely hire this company again!
Audrey R - Port Matilda, PA
05/06/14


I have been a greatly satisfied customer for many years. Red Hot Carpet Cleaning is always on time, thorough and complete, and the job is done beautifully. I've had a variety of awful stains removed on carpets throughout the house. Wonderful!
Tanya F - State College, PA
04/25/14


I just had a 15-year old carpet cleaned that I was sure would need to be replaced in the next year or so. Stains that had remained after other carpet cleaners had tried are now gone. Except for areas discolored by sun exposure, my carpet looks like it did 15 years ago.
Kathleen O - Lemont, PA
04/09/14


I have used Red Hot for many years and have always been impressed with the cleanings they have done. The owner, Nevin is dedicated to doing exceptional work. He is professional, always on time and very thorough. Far and above the other local carpet cleaners I have used in the past.
Kim H - State College, PA